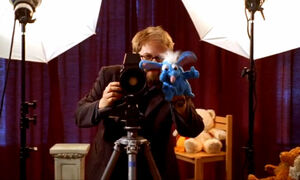 Dead Like Me is a TV series created by Bryan Fuller that aired on Showtime between 2003 and 2004 about a group of grim reapers who operate out of Seattle, Washington.
Mentions
In the pilot, George considers talking to a little girl before saving her soul. After asking her name, she thinks to herself, "I didn't know what to say after that. I mean, it's not like they cover this sort of thing on Sesame Street."
In the episode "Curious George", a photographer uses a Tutter puppet to try and make Reggie smile for a family photo.
Also in "Curious George", George and Mason have the following exchange:
George: I was dreaming about frogs.
Mason: Real ones, or like Kermit?
Connections
Community content is available under
CC-BY-SA
unless otherwise noted.