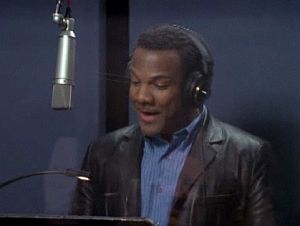 Deadline was a TV drama created by Dick Wolf. The show centered on the fictional newspaper The New York Ledger, previously featured in the background of Wolf's Law & Order franchise. The series ran on NBC for a single season, from 2000 until 2001.
The ninth episode, "Somebody's Fool," aired on March 24, 2001, features a subplot revolving around a celebrity safety voice-over campaign in New York taxi cabs. Among the celebrity announcers is Elmo. Kevin Clash appears as himself (and receives guest star billing in the opening credits), recording a safety message as Elmo, minus the puppet: "Elmo loves riding in taxi cabs, and he always buckles his seatbelt for safety. Thank you, Seatbelt! Ha ha ha, hee hee!"
New York Ledger journalist Wallace Benton (Oliver Platt) has been roped into taping a safety voice-over of his own, and briefly chats with Clash, who notes that "Some days you operate the Muppet; other days, the Muppet operates you."
Connections