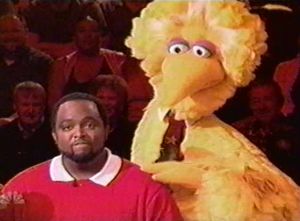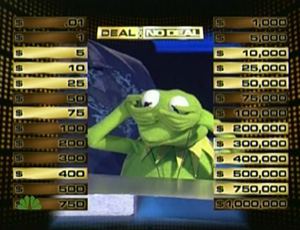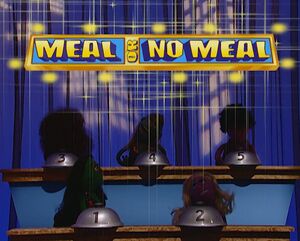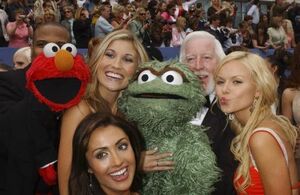 Deal or No Deal was an NBC game show hosted by Howie Mandel which premiered in December 2005 and ended in May 2009, in which contestants go through a series of moves, opening cases of money and then being offered a "deal" from the shadowy banker, which they can accept or reject.
Big Bird's Appearance
On December 25, 2006, the special two-hour Christmas Day episode featured a cameo appearance by Big Bird, in addition to special guest Santa Claus.
The second half of the special focused on contestant Lamar Wilson, an ice cream man. During the early rounds, Lamar's mother reveals that he has a lingering fear of Big Bird, due to the presence of a Big Bird chair with "huge eyes" in his room, which at night would seem to come towards him.
Teased about his Muppet-phobia throughout the game, the gag culminates near the end, when Mandel asks Lamar if the high stakes have him nervous, and if he feels scared. This is the cue for Big Bird, played by Caroll Spinney (and wearing a red Christmas necktie), to sneak up behind the contestant, who promptly runs off the stage.
Howie Mandel and Big Bird jointly coax the ice cream man back. Lamar regains his composure and hugs the bird. Big Bird goes on to say that Lamar reminds him of Snuffy, and that he was scared when he first met him, but he learned to face his fears. The bird echoes Lamar's personal motto (mentioned earlier in the program) that one just needs to believe to succeed.
Kermit's Appearance
Kermit the Frog appeared on the November 9, 2007 episode of the show, as part of a multi-program "green" campaign by NBC.[1]
References
Sources
↑ Roger Catlin, "In Sweeps, Will Green = Green?", The Hartford Courant, 5 November 2007.
External links