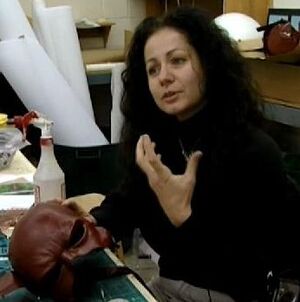 Deborah Ambrosino is a costumer, often specializing in crafting metal armor and jewelry, who worked for Jim Henson's Creature Shop. She was part of the creature fabrication crew for the TV series Dinosaurs and Aliens in the Family. She was also part of the costuming team for the title character in The Phantom.
Ambrosino has worked steadily in film costuming since the late 1980s, including hats for Coming to America and The Shadow, the Riddler's hat for Batman Forever, revolutionary war headgear for The Patriot, Alice's armor in Tim Burton's Alice in Wonderland, and Count Olaf's top hat in Lemony Snicket's A Series of Unfortunate Events. Other specialty costume credits include Burton's Planet of the Apes, the 2009 Star Trek, and Night at the Museum: Battle of the Smithsonian.
Ambrosino has been especially active in Marvel film adaptations, crafting the metal structure for the blind hero's costume in Daredevil, chainmail for Hogun and Loki in Thor, and Thor's own costume in that film and The Avengers, as well as work on Captain America: The Winter Soldier and Ant-Man.
External links
Community content is available under
CC-BY-SA
unless otherwise noted.