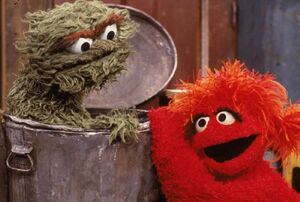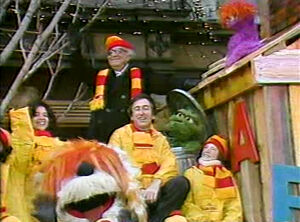 Deena is a young, energetic pink monster with red hair and googly eyes, like Cookie Monster's. She talks in monster grammar: "Deena wants to play!" She lives in a cave with Pearl, who functions as her caretaker.
Deena was first seen during Season 11 of Sesame Street in Episode 1403. She, along with Pearl, virtually vanished after season 12. However, they did made background appearances in the wedding finale of The Muppets Take Manhattan.
The character was created by Norman Stiles, who named her after a friend of his.[1] In a 2015 interview, he spoke of the character:
Notes
In her first appearances in season 11, Deena was depicted as a red monster. The puppet was changed for season 12, but the original puppet continued to be used on the show, often as a Grouch. The later Deena with purple fur became a stock AM monster, and was converted into Humphrey and Potto.
Episodic appearances
See also Deena and Pearl Sketches
Book appearances
Merchandise
Deena was pictured in a 1981 set of stickers made by Drawing Board, posing with the letter D.
See also
Sources