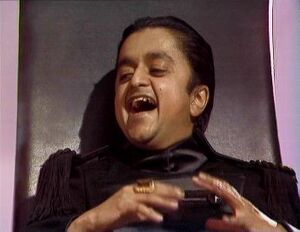 Deep Roy (b. 1957) is a Kenyan-born actor, puppeteer, and stunt man who was one of several dwarf performers to serve as additional puppeteers on The Dark Crystal.
Roy made his film debut in the 1976 comedy The Pink Panther Strikes Again, in a memorable bit as a bow-wielding Italian assassin whom Inspector Jacques Clouseau (Peter Sellers) mistakes for a small child. Like Warwick Davis and Kiran Shah, Deep Roy has found a steady living in science fiction and fantasy films, essaying Droopy McCool in Return of the Jedi, Fellini in Flash Gordon, Teeny Weeny in The Never Ending Story, a primate in Greystoke: The Legend of Tarzan, Lord of the Apes, and the Tin Man in Return to Oz (opposite Brian Henson).
Later film credits include several collaborations with Tim Burton, playing dual roles as ape children in the 2001 remake of Planet of the Apes, clown/attorney Mr. Soggybottom in Big Fish, the voice of General Bonaparte in The Corpse Bride, and all the Oompa Loompas in Charlie and the Chocolate Factory. In television, Roy played the sinister robotic toy Mr. Sin in the Doctor Who story "The Talons of Weng-Chiang" and also guest starred on Blake's 7 and The X-Files. In 2009, Roy had appearances in two high-profile films: as a border guard in Transformers: Revenge of the Fallen and as Keenser, Mr. Scott's sidekick in the reboot of Star Trek. He is one of only a handful of actors to play roles in both the Trek and Doctor Who franchises.
External links