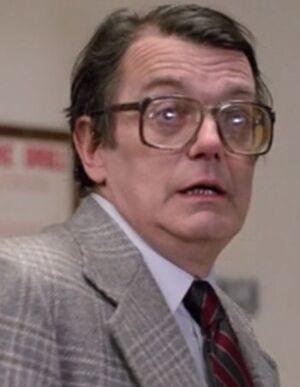 Del Close (1934-1999) was an improvisational comedian, writer, and character actor who taught his improvisation methods to many notable groups and students, from the Second City to Saturday Night Live performers. In 1961, Jim Henson asked Close to write material for the US Food Fair event at Hamburg, Germany; one idea led to a skit with a blinking Muppet machine.[1]
Early in his career, Close performed stand-up, wrote and performed two offbeat comedy albums (1959's The "Do It Yourself" Psychoanalysis Kit and 1961's How to Speak Hip), and played a yogi in the 1959 Broadway musical The Nervous Set. A member of the Chicago Second City troupe from 1961 to 1964, he is best remembered for developing a long-form improv known as "The Harold" during a stint with the San Francisco improv group the Committee. He returned to the Second City in 1972 as a director and teacher.[2]
Close made appearances on the sixties TV series Get Smart (as a CONTROL scientist), The Double Life of Henry Phyfe (with Red Buttons) and My Mother the Car (three episodes) and played supporting roles in several films including Ferris Bueller's Day Off (as the English teacher), American Graffiti, The Untouchables (also guest starring on the 1993 Untouchables TV series), the 1988 version of The Blob, The Public Eye (with Joe Pesci, as book publisher Rhineman), and Fat Man and Little Boy. As a writer, he scripted issues of the DC Comics series Wasteland (1987-1989) and later modeled for Alex Ross' Marvel Comics 1994 limited series Marvels (as a publisher based on his Public Eye character).
In his later years, Close also returned to stage acting, including Shakespeare in Chicago. In 1998, he recorded narration for the opening of the Upright Citizens Brigade TV series, which continued to be used (with screen credit) after his death.
External links
Sources
↑ Jim Henson's Red Book. Nov. 2013.
↑ Patinkin, Sheldon. The Second City: Backstage at the World's Greatest Comedy Theater. Sourcebooks, 2000. pgs. 18-19
Community content is available under
CC-BY-SA
unless otherwise noted.