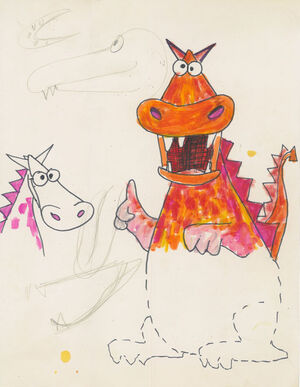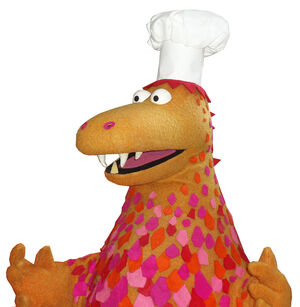 Delbert the La Choy Dragon appeared in television commercials for La Choy chow mein from 1965 to 1967. In some commercials he was teamed with Mert, a meek, bespectacled Muppet spokesman.
Though originally built as a live-hand character, in 1966, he was rebuilt as a full-bodied character to engage with live actors in domestic settings.[1] The puppet was capable of emitting fire from its mouth, creating a unique effect in the commercial he appeared in.
Frank Oz, who puppeteered the La Choy Dragon to Jim Henson's voice, notably hated performing inside the full-body suit.[2] Caroll Spinney has noted the dragon as a precursor to Sesame Street's Big Bird, including a 1984 interview with The Age[3] and his memoir The Wisdom of Big Bird.[4]
Although he's not named in commercials, Delbert refers to himself by name in a 1966 promotional film (advertising new commercials airing during The Girl from U.N.C.L.E.). His name has been documented elsewhere[5][6] and appeared on limited merchandise produced of the character, including an inflatable toy (pictured below) and a hand puppet.
A rebuilt version of Delbert has been seen in recent exhibits such as Jim Henson: Puppeteer. The 2010 comic book The Muppet Show Comic Book: Family Reunion makes a reference to the La Choy Dragon in the last panel, showing a giant Delbert in a chef's hat attacking a building as Skeeter prepares to stop him.
See also
Sources