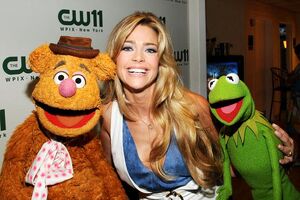 Denise Richards (b. 1971) is an actress and fashion model. Richards' film credits include Starship Troopers, Drop Dead Gorgeous, and Wild Things.
On May 22, 2008, she ran into Fozzie Bear and Kermit the Frog, when they were all appearing on the PIX 11 Morning News show.[1] She also attended the official launch of Disney & Muppet Myzos at Fred Segal on August 22, 2009.
Television guest roles include Lois & Clark: The New Adventures of Superman, Friends, Seinfeld, and Beverly Hills, 90210.
Sources
External links