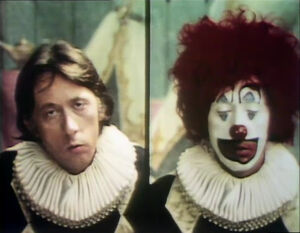 Dennis Allen (1940-1995) was a comedian who performed on The Leslie Uggams Show (1969) and spent a stint on Rowan & Martin's Laugh-In from 1970 until 1973. With a lanky frame and sad, bassett-hound face, Allen performed physical pantomime scenes on Laugh-In, playing a marathon basketball dribbler, and also played speaking roles such as newscaster Eric Clarified and philosopher Bud Homily.
Allen put his distinct visage to use in a Sesame Street film insert in the 1970s, playing a clown who removes his make-up in reverse motion. The final shot contrasted the melancholy Allen's "everyday face" and the clown make-up.
External links
Community content is available under
CC-BY-SA
unless otherwise noted.