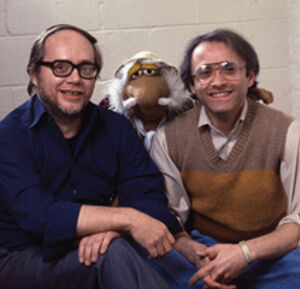 Dennis Lee (b. 1939) is a Canadian poet and author perhaps best known for the children's collection Alligator Pie and the overtly political Civil Elegies, for which he won a prestigious Governor General's Award. With friend and composer Phil Balsam, Lee wrote the lyrics for most of the songs used on Fraggle Rock. He also wrote lyrics for Rocky Mountain Holiday, The Tale of the Bunny Picnic, The Jim Henson Hour and Muppet Classic Theater, and worked on the screenplay for Labyrinth.
The credits of The Dark Crystal includes mention of Lee. In an interview with the Toronto Star, Lee was asked why the thanks. "It's because of my pretty face. They were impressed with my elbow. I had no intention of going public about this." He later explained that Henson was on the Fraggle set during the summer of 1981, and displeased with dialogue at some part of the film. Lee changed some words, and did ADR.[1]
The University of Toronto Libraries includes his archival fonds, known as the "Lee Papers"; it includes numerous scripts, draft lyrics of "Song for Kira" (for Dark Crystal), 10 boxes of Fraggle Rock material, and revisions of songs for the animated series.
Sources
↑ Sid Adilman, "Children's author, Fraggle Rocker", The Toronto Star, 18 December 1982, F3.
External links
Community content is available under
CC-BY-SA
unless otherwise noted.