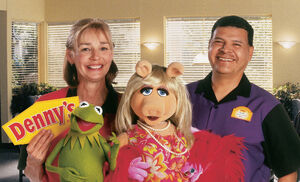 Denny's is a restaurant chain, best known for its all-day breakfast menu. In an ad campaign launched on May 20, 2002, Kermit, Miss Piggy, Statler and Waldorf appeared in several television and radio spots to promote the 25th anniversary of the Grand Slam breakfast, while also reflecting the 25th anniversary of The Muppet Show.
Performers for the ads were Steve Whitmire (Kermit), Eric Jacobson (Piggy), Jerry Nelson (Statler), and Dave Goelz (Waldorf). The campaign was created by West Wayne Inc., a Florida based advertising agency. Similar, earlier spots with celebrity pairs, built around the theme "you never know who'll be dining at Denny's," featured Sherman Hemsley and Isabel Sanford, as well as Seinfeld regulars Barney Martin and Liz Sheridan.
Controversy
The spot with Kermit and Miss Piggy involved the latter openly salivating over the plate, which included bacon strips and sausage, and requesting three servings.[note 1] This irony was unacknowledged within the campaign, but reminiscent of Pepe the King Prawn's stint as Long John Silver's spokescharacter, and the potentially cannibalistic overtones prompted a minor media controversy. In a May 21 editorial for The St. Petersburg Times, columnist Ernest Hooper opined, "Instead of you are what you eat, Miss Piggy's radio spots seem to suggest you eat what you are." A June 21 letter to The Houston Chronicle raised similar concerns: "Did any of the people involved in this ad campaign ever see The Muppet Movie? It was all about how Kermit the Frog did not want to sell frogs' legs in commercials because he was a frog, and he did not want to promote cruelty to other frogs."
The commercial also rated a mention in the July 29 issue of People. The agency's account director, Pete Taylor, defended the decision: "I think people understand it's the Muppets. If we had a real live pig in there eating bacon, then there'd be issues." When interviewed, Miss Piggy responded regarding her apparent desire for pork: "Pork? What are vous talking about? Moi is now 100 percent Botox! It's a diva thing, sweetie." Kermit responded in a slightly more elliptical way during a November 27 print interview with Rob Owen of The Pittsburgh Gazette, directly contradicting the content of the actual ad.
Owen: You were in a recent commercial for a restaurant chain (Denny's) that serves ham and bacon. Does that cause any trouble for you?
Kermit: You could almost call it a conflict of interest, not for me so much as for a certain pig. Fortunately, she didn't order those things. But I figure we're all part of a food chain and if you end up on a Grand Slam Breakfast plate, what are you going to do?
Notes
↑ During a 1984 appearance on The Merv Griffin Show, Miss Piggy says she did commercials for bacon early in her career.
Community content is available under
CC-BY-SA
unless otherwise noted.