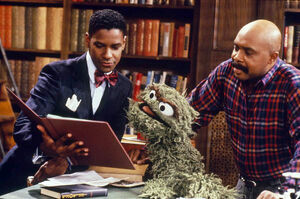 Denzel Washington (b. 1954) is an Academy Award winning actor who appeared on Sesame Street in Episode 2718 as the Grouch poet laureate Henry Wadsworth Wrongfellow. A clip from his appearance appears in Stars and Street Forever
Oscar the Grouch, when interviewed for Life magazine online, remembered:
"

Grouches don't like much poetry, but [his writing] very beautifully made you feel miserable. Finally I tried to arrange to meet the poet, and here comes this guy who looked like Denzel Washington. And he was very pleasant and extremely polite, and I can't tell you my disappointment. 'Well, how do you do?' he says, and 'Nice to meet you,' and he was so very proper and wore a tie that wasn't dirty.… I got pretty upset about it. But still, before the day was over I liked his poetry so much I forgave him. [Now] I have a whole collection [of his work]. I use it to hold up one of the legs of my piano."[1]

"
Washington has starred in Spike Lee's Mo' Better Blues and Malcolm X, for which he earned his first Oscar nomination. He has also starred with Tom Hanks in Philadelphia, with Julia Roberts in The Pelican Brief, and William Shakespeare's Much Ado About Nothing. Washington went on to appeare in Julius Caesar and Richard III on Broadway.
References
Sources
↑ "The Reflections of Oscar the Grouch", Oscar the Grouch, Guest editor, Life Magazine. November 5, 2009.
External Links
Community content is available under
CC-BY-SA
unless otherwise noted.