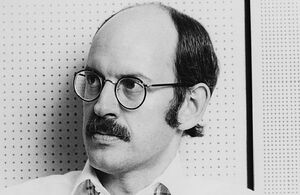 Desert Island Discs is a long-running BBC radio series, created by Roy Plomley (who had presented several record-based shows). Plomley also hosted from the show's inception in 1942 until his death in 1985. The premise was simple: different notables would be interviewed, listing the eight recordings ("discs") they would take with them on a desert island (later typically including a book and luxury item as well). The recordings would be played, while the host talked with the guest about their life or career.
On the August 29, 1981 broadcast, the guest was Frank Oz, interviewed by Roy Plomley (who refers to him as a performer of Miss Piggy "and some other Muppet mates.") Oz' ten musical selections were dominated by jazz musician Mose Allison (from his 1958 album Young Man Mose, which Oz grew up on), with "Don't Get Around Much Anymore" as the favorite selection. The other seven, in the order played, were "God Rest Ye, Merry Gentlemen" (sung by Bing Crosby); "What a Waste" from the 1953 Broadway musical Wonderful Town (sung by George Gaynes and company); "Bill Bailey, Won't You Please Come Home" sung by Louis Armstrong from the Danny Kaye film The Five Pennies; 'Lost Mind" (Mose Allison); Bruce Springsteen's "Racing in the Street"; "Antmusic" by Adam and the Ants; and "Parchman Farm" (Mose Allison, again).
Oz discusses his full name (Oznowicz), family, how he met and began working with Jim Henson, and their projects. When asked what the word Muppet means, he says "I have no idea." On the creation of Miss Piggy: "Lord knows how, but she just appeared." Oz chose the complete works of Emily Dickinson as the book, and clean sheets for his luxury.
During the broadcast, Miss Piggy knocks on the door to talk with "Ray Plumley." She describes the studio as "tacky but charming" and when asked about Frank Oz, says "I don't know the gentleman." Plomley also asks about the rumors regarding her and Kermit the Frog, although marriage isn't mentioned, Piggy affirms their status as a couple and calls Kermit her "magnificent obsession." Piggy also appeared in promotional photos with Plomley.
Connections
Many of the Desert Island castaways/interview subjects have worked with the Muppets, Jim Henson, or related projects over the years.
External links