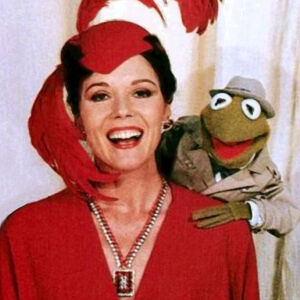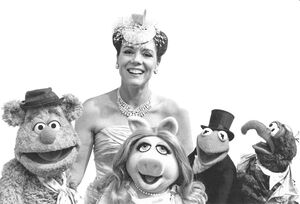 Diana Rigg (1938-2020) played Lady Holiday in The Great Muppet Caper. A British actress adept on stage and screen, Rigg first gained prominence amongst American audiences for playing the sultry, leather-clad Mrs. Emma Peel on the TV series The Avengers (a role which netted her two Emmy Award nominations). Her acclaimed stage work included Shakespeare, Shaw, Follies, and Tom Stoppard's Jumpers (originating the role of Dottie Moore opposite Michael Hordern)
Rigg's movie roles included Tracy (the only woman to marry James Bond) in On Her Majesty's Secret Service, Miss Drummond in The Hospital (with George C. Scott), Vincent Price's daughter in the thriller Theater of Blood, and the victim in the Agatha Christie adaptation Evil Under the Sun.
In 1989, she replaced Vincent Price as the host of the PBS series Mystery!, which she helmed until 2003. She also starred in The Mrs. Bradley Mysteries and won an Emmy Award for Outstanding Supporting Actress as the grim Mrs. Danvers in Masterpiece Theater's 1997 version of Rebecca. Later TV work includes a 2013 guest spot on Doctor Who and a recurring stint on Game of Thrones (as Olenna Tyrell).
In a 2015 interview for The AV Club, she explained why she appeared in The Great Muppet Caper.
External links
Sources