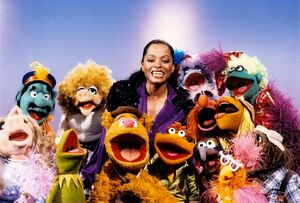 Singer Diana Ross (b. 1944) first found fame as the lead singer of the popular Motown singing group The Supremes, from 1961 to 1969. She launched a successful solo career in 1970. Her daughter is Tracee Ellis Ross.
Ross was the guest star on episode 424 of The Muppet Show.
She also appeared in Sesame Street segments during season 13, singing "Believe in Yourself" to Big Bird and "Picture a World" to the kids. The former segment was cut into Stars and Street Forever. Ross' daughters Tracee, Rhonda, and Chudney appeared among the kids for her songs.[1]
Lady Sings the Blues (with Billy Dee Williams and Richard Pryor) earned Ross an Academy Award nomination for her portrayal of Billie Holiday. She was also cast as Dorothy Gale in the African-American version of The Wizard of Oz, The Wiz (with Michael Jackson and Lena Horne).
Ross was honored by the Guinness Book of Records as the most successful female recording artist ever with 18 US #1 hits and 70 top 10 hits since 1964. She won a Special Tony Award in 1977. She was inducted into the Rock and Roll Hall of Fame as a member of the Supremes in 1988, and inducted into the Rhythm & Blues Foundation as a member of the Supremes in 2003. Billboard Magazine named her Female Entertainer of the Century.
Sources
External links