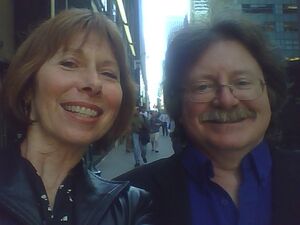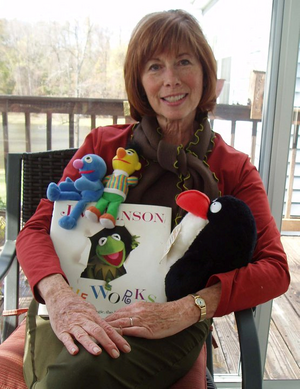 Diane Salsberg was a costume designer for Jim Henson during the prime Henson "boom" taking place during the late 70's through the 1980's. She began working with the Henson Associates team in the 1970s, when someone scouted her dolls and soft sculpture work that she had originally been doing for her young son, then later trying to sell/market in stores around Manhattan. For her first year, she was given the task of designing arms and legs for an upcoming project called The Dark Crystal under the leadership of Marianne Harms. For her second year (still working on The Dark Crystal), Salsberg was promoted to costume design for the film, doing all the clothing designs for the Podlings and the Mystics. During this time, she became quite close with Brian Froud, who was the concept designer and creator of both The Dark Crystal and Labyrinth. Salsberg, Froud and his wife, Wendy, remain good friends to this day.
After The Dark Crystal, Salsberg stayed on with Henson and the New York City team; many had moved over to the United Kingdom at that time, since both The Dark Crystal and Labyrinth were filmed there. Salsberg worked on The Muppet Show from then on, doing costume design work. She worked for a while on the Whatnots team. A personal highlight was working on Miss Piggy's wedding dress (made from real chantilly lace) for The Muppet Show episode 310. Diana Salsberg jokingly noted that "Miss Piggy's wedding dress cost more than mine did!"
Additionally, Salsberg worked on Sesame Street, Fraggle Rock and Emmet Otter's Jug-Band Christmas. She also did the design work for the life-size Sesame Street and Muppet Show characters for the Macy's Thanksgiving Day Parade.
After her work for the Muppets, Diane Salsberg went on to design the famous Pittsburgh Pirate Parrot, life-size mascot for the Major League Baseball team. Another feather in her cap came when she was tasked with designing the coat for the Broadway smash hit "Joseph and the Amazing Technicolor Dreamcoat." She later did costume design for a The History Channel documentary, creating crowns resembling those of ancient kings and queens.
Currently, Salsberg lives in Poughkeepsie, New York. From time to time she has taught puppetry and "soft sculpture" classes for elementary and middle school students since the late 1980s. Students nickname her "The Muppet Lady." In addition to Brian & Wendy Froud, Diana has remained close with fellow Henson alumni Faz Fazakas and Kay Stuntz (both residents of New Paltz, New York).
External links