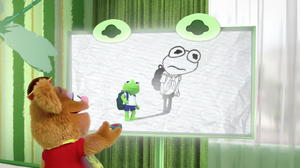 Diary of a Wimpy Kid is a series of young adult fiction books by Jeff Kinney, following the adolescent life of Greg Heffley. The books have since been adapted into a film franchise by 20th Century Fox.
References
Mentions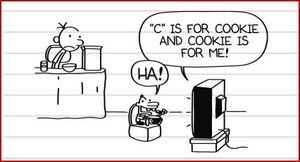 Early in the first novel there is a drawing of the main character (Greg Heffley)'s little brother (Manny), who is watching TV. The TV set is presumably tuned to Sesame Street due to the speech balloon which is saying, "C is for Cookie, and cookie is for me!". This is also seen in the online version, seen on funbrain.com.
On one of the pages in the online version, Greg mentions Manny watching Sesame Street for the "millionth time today". The TV set itself shows a Muppet resembling Rosita, who says "Agua!", while Manny repeats it back. This means the episode Manny is watching has a Spanish Word of the Day segment.
In the third book in the series (The Last Straw), at Greg's friend Rowley Jefferson's sleepover with a kid from his karate class, Greg says that all the little kids who were invited were "more interested in Sesame Street than they are in girls."
See also
Community content is available under
CC-BY-SA
unless otherwise noted.