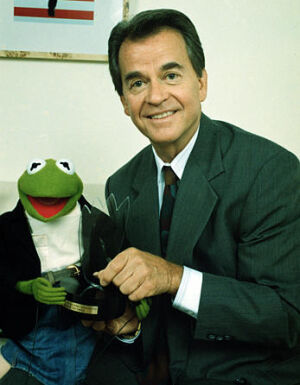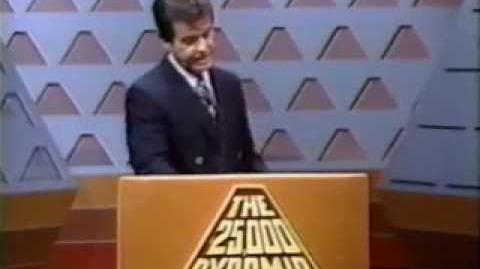 Dick Clark (1929-2012) was a TV personality best known for hosting long-running shows such as American Bandstand, The $10,000 Pyramid, and Dick Clark's New Year's Rockin' Eve.
On July 29, 1984, Clark presented Kermit the Frog with the first Amphibian American Music Achievement Award (the AMMAA) in honor of his contributions to popular music. A decade later, Clark made a cameo appearance in Kermit and Miss Piggy's music video, "She Drives Me Crazy".
The Muppets appeared in several scenes in Dick Clark's TV's Bloopers and Practical Jokes from the filming of The Muppet Christmas Carol. Miss Piggy and Kermit appeared in The Funniest Joke I Ever Heard, special he produced.
Archive footage of Clark hosting The $25,000 Pyramid was used for a spoof called The 25,000 Dollhouse Pyramid in the Muppet Babies episode "The House That Muppets Built," with new voice-overs by Clark himself. Upon seeing Clark, Baby Kermit remarks that they must have wandered onto American Bandstand.
References
In a series of mock break-out quotes on the back of the 1977 Sesame Street album Big Bird Leads the Band, Clark is one of several music personalities spoofed. "I give it a ten," says television host Dick Cluck.
In a 2005 episode of Sesame Street, American Bandstand was spoofed as "American Fruit Stand" hosted by Duck Clark.
External links