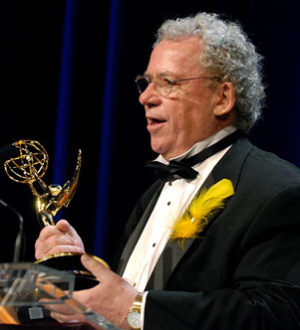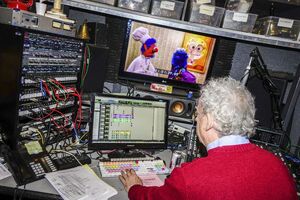 Dick Maitland is a sound effects/foley artist who has worked continuously on Sesame Street and its various spin-off specials since 1969. Maitland has won twenty-five Emmy Awards for his work. His sound effects were also heard on the vast majority of Sesame Street albums. Maitland is also the squeaky voice of Oscar's pet Slimey, operated by Martin P. Robinson.
Then and now, Maitland created many of his sounds through manual foley, in the tradition of old-time radio sound men, including Cookie Monster's cookie eating noises, footsteps for Muppets, and crashes. As Maitland recalled, "The first job I had in 1969 was for a song called 'Windy.' They wanted a big crash at the end[...] So I went and got all the stagehands, and we made this big pile of junk in the middle of the stage. And at the right point, I threw myself at the pile and smashed it all over the floor."[1]
In the Sesame Street episode where Maria gives birth to Gabi, Maitland's then three-month-old son Bryan played the newborn baby.[2]
Working with others, he also provided the sound design for the Muppet specials The Muppet Show: Sex and Violence and Emmet Otter's Jug-Band Christmas. To date, along with the rest of the show's sound crew, Maitland has received 25 Daytime Emmy Awards for either best sound mixing or sound editing (and in 2012 and 2015 for both categories) and multiple nominations.
In the late 1970s, Maitland worked with Tedd Rapp to develop the Tram TR-50 microphone for wireless Broadway use and on-set with its famous "vampire clip," which is still being used worldwide. Grisha Mynova from Sesame Street also developed a sweatproof pouch for the TR-50 Transmitter.
Maitland has also supplied sound effects for such series as The Electric Company, 3-2-1 Contact, Maya and Miguel, the Nick Jr. show Wonder Pets, and 3rd & Bird. Maitland is also a live "sweetener" (enhancing crowd sounds and reactions) whose credits include Macy's Thanksgiving Day Parade, the Grammy Awards, A Capitol Fourth, Christmas in Washington and Fashion Rocks. He provided surround sound effects for the One World, One Sky: Big Bird's Adventure Planetarium grand opening in Beijing, China. For records, Maitland worked on comedian/impressionist David Frye's Richard Nixon albums I Am the President and Radio Free Nixon. Maitland started his career at ABC on such shows as Dark Shadows, All My Children and Wide World of Sports.
Sources
Community content is available under
CC-BY-SA
unless otherwise noted.