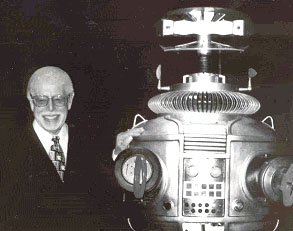 Dick Tufeld (1927-2012) was an announcer and voice actor who supplied the voice of The Robot in the 1998 Creature Shop-effects film Lost in Space. Tufeld reprised his role from the original series, where he uttered the trademark line "Warning, Will Robinson!"
Tufeld began his announcing career in the late 1940s and was heard on such old-time radio series as The Amazing Mr. Malone and Space Patrol, narrating the latter on television as well.
In animation, he supplied narration or served as announcer on The Fantastic Four, Spider-Man and His Amazing Friends, Histeria!, and the Disneyland "Tomorrowland" installment Man in Space, released theatrically. He also reprised his robot voice on The Simpsons. Other credits include announcing such varied shows as The Hollywood Palace, Surfside 6, and Don Adams' Screen Test.
External Links
Community content is available under
CC-BY-SA
unless otherwise noted.