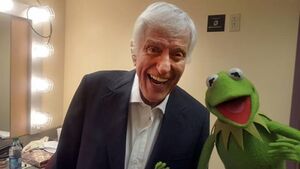 Dick Van Dyke (b. 1925) is a celebrated actor who has been at home on the stage, screen, and television sets.
He is well remembered from his films Mary Poppins and Chitty Chitty Bang Bang, his television series The Dick Van Dyke Show and Diagnosis Murder, and his lauded performance in Broadway's Bye Bye Birdie. He replaced Harvey Korman for one season of The Carol Burnett Show and was an admirer and friend of Stan Laurel.
In 1979, Van Dyke co-hosted the TV special The Muppets Go Hollywood, a celebration of the release of The Muppet Movie. In the special, Van Dyke interviewed a number of Muppets, and sang "You Oughta Be in Pictures" to Miss Piggy.
In 2008, Van Dyke and his a cappella group, the Vantastix, recorded a version of "Bein' Green" for their Put On A Happy Face album.
On August 19, 2011, Van Dyke appeared with the Vantastix at the D23 Expo where they performed a medley of Sesame Street songs.
Van Dyke appeared in Disneyland 60 alongside other celebrities, including Kermit the Frog.
Van Dyke was mentioned in the January 1970 issue of Jack and Jill as one of a number of celebrities set to appear on Sesame Street, but does not appear in any season one episodes.
References
External links