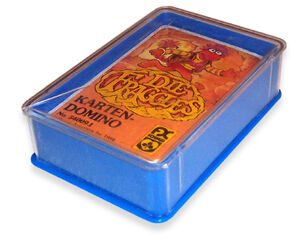 The card game Die Fraggles Karten-Domino was released by the West-German company F.X. Schmid in 1984 as a tie-in with the German Fraggle Rock co-production Die Fraggles.
The game requires 2-5 players. The goal of the game is to get rid of all the domino cards that a player holds. Each player takes turns in putting down a matching card next to the already laid out card(s). In the case that no image matches, the player has to pick up a card from the stack. The game ends when all domino cards have been laid out; the winner is the player first running out of cards.
Beside the title card, there are 28 different domino cards. Each card features two repeating illustrated images, all of which appear in every possible combination. The characters on the cards are Red, Wembley, Boober, Uncle Traveling Matt, Mokey, Gobo, as well as the Die Fraggles logo.
See also