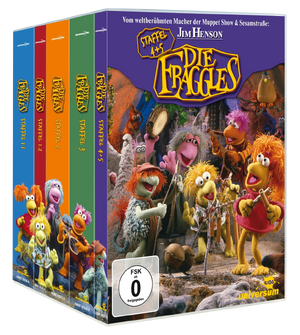 Home video releases of Die Fraggles, the German co-production of Fraggle Rock.
The Region 2 DVD releases of the first half of the first season contain the full German episodes, as well as the original North American-produced episodes with optional German subtitles. The subsequent season releases contain only the German episodes.
The combined release of the last two seasons was cut short, in that not all Fraggle Rock episodes exist for Die Fraggles. Yet, these episodes have not been released in their original English version in German-speaking countries either. For the eleven episodes that don't exist in the German co-production, see this list.
DVD Releases
Cover
Content







SEASON 1.1

Release Date: July 21, 2008 (the same box-set has been released four times with slightly varying covers)

Three-disc release of the first twelve episodes. Included are the American-English and German versions of each episode (with differing video and audio):

Disc One

Disc Two

Disc Three

Notes:

universum film (universum kids)
2010 design



KSM box set
April 9, 2009 (unreleased)
SEASON 1.2

Release Date: December 10, 2010

Two-disc release. Unlike the release of the first twelve episodes, this release contains only the German episodes:

Disc One

Disc Two

Each disc further features animated menus; the second disc features trailers for other (non-Muppet) classic children's shows on DVD.

universum film (universum kids)
SEASON 2

Release Date: December 10, 2010

Three-disc release. Unlike the release of the first twelve episodes, this release contains only the German episodes:

Disc One

Disc Two

Disc Three

Each disc further features animated menus; the third disc features trailers for other (non-Muppet) classic children's shows on DVD.

universum film (universum kids)
SEASON 3

Release Date: December 10, 2010

Three-disc release. Unlike the release of the first twelve episodes, this release contains only the German episodes:

Disc One

Disc Two

Disc Three

Each disc further features animated menus; the third disc features trailers for other (non-Muppet) classic children's shows on DVD.

Notes:

* Only for the first 12 episodes of this release (49-60), the logo at the beginning of the closing is now golden yellow. The credits are still blue, but capitalized.
Starting with episode 67, German episode titles have reverted to being displayed after the opening credits, like episode 1.

universum film (universum kids)
SEASONS 4 & 5

Release Date: December 10, 2010

Two-disc release. Unlike the release of the first twelve episodes, this release contains only the German episodes:

Disc One

Disc Two

Folge 84: Aus den Augen, nicht aus dem Sinn
(mislabeled "Aus den Augen, aus dem Sinn," which erroneously translates to "Gone and Forgotten")
Each disc further features animated menus; the second disc features trailers for other (non-Muppet) classic children's shows on DVD.

universum film (universum kids)
The Complete Series

Release Date: May 20, 2011

Collector's box set, containing all thirteen previously released discs (see above listings for details). (Does not include any of the eleven episodes omitted from this co-production.)

Fernsehjuwelen GmbH
The Complete Series

Release Date: March 23, 2018

Collector's box set reissue, containing all thirteen previously released discs (see above listings for details). (Does not include any of the eleven episodes omitted from this co-production.)