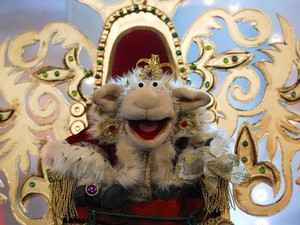 Die Grosse Sesamstrassen-Musikshow (The Big Sesamstrasse Music Show) was 13 segments produced for Sesamstrasse season 36.
Bert hosts the segment and Ernie acts as the stage hand. However, in each segment something goes wrong, either some piece of the set is faulty or Bert has to dress up and participate in the show as a unwilling stand-in.
Segments
Picture
Episode
Description

2457
Rumpel and Lena sing a song about traveling in space.

2460
Samson sings a song about underwater diving.

2461
An Italian wolf sings a song about spaghetti with a chorus of chickens.

2465
Finchen the singing organic snail sings about organic food. Gustav makes an appearance in the song.
(YouTube)

2466
Pferd sings about how he invented fruit juice by accident in his lab.

2472
Finchen rocks in the forest.

2475
Lena and the chickens sings a song about animals on a farm. Bert is standing in as the animals, since Ernie told him they could not make it.

2479
Wolle sings a song about being a cloud.

2485
A green wolf and pirate captain Wolle sing a song about why they prefer a treasure of carrots to a treasure of gold and silver. In the meantime Ernie tries to fix up the pirate ship prop, which he did not finish in time.

2486
Pferd sings a song about dancing. During the song, Bert has to stand in for a swan, while Pferd cross dresses.

2491
Bert introduces Pferd and his singing sport troupe, singing a song about aerobics. The sport troupe contains Bert, Ernie, Rumpel, Wolle, Lena, Samson and the Wolf vom Wörtersee.

2515
Wolle sings a song about being a king backed by chickens.

Weihnachten mit Ernie & Bert
Rumpel sings a his version of "O Christmas Tree". During the song, Bert appears dressed as Santa Claus.
Community content is available under
CC-BY-SA
unless otherwise noted.