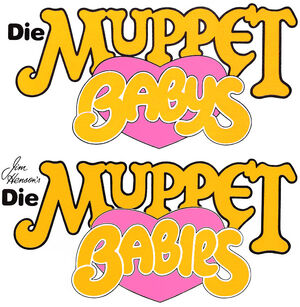 Die Muppet Babies is the German language translation of the Muppet Babies comic book, published on a bi-monthly basis. The magazine series ran from 1987 to 1990. The stories were illustrated by Marie Severin.
There are 11 regular issues in total, featuring comics and activity pages. Additional stories have been published in one "Comic-Super-Album," and two smaller "Comic-Taschenbücher" ("comic pocket books," which include up to seven stories).
The two "Sonderhefte" ("special issues") as well as the last three regular books (consisting of double issues, combining issues #12/13, #14/15 and #16/17), are reissues of previous stories.
Notes
The first two issues of the magazine use a special German logo for the series, with the German spelling on "Babies" exchanging the "ie" with a "y" — though the splash pages on the inside feature the original English language logo. The German logo was dropped with issue #3, and the Jim Henson trademark signature was added.
"Comic-Super-Album" #1 features a reissue of the title story from Die Fraggles issue #1 as a bonus comic. Later "Comic-Super-Albums" by the publisher featured Ewoks comics, among others.
Regular issues
Special issues
Pocket books
Credits
Die Muppet Babies
Publisher: Zeitschriften- und Buchverlag INTERPART GmbH & Co. KG
V.P.: Helga Biehler
Publishing Manager: Renate Budweit
Editor in Chief: Wolfgang M. Biehler
Editorial Director: Harald Seemann
Editors: Dr. Klaus Strzyz, Brigitte Dettmer (issues #1-6)
Production Manager: Klaus Jarmer
Copyright: Marvel Entertainment Group, Inc.
Character Copyright: Henson Associated, Inc.
License: Hans W. Fuchs, Lizenz- und Presse-Agentur (issues #8-11)
Advertising Manager: Duray-Albrecht KG (issues #10-11)
Print: BP-Biehler Production, Hamburg (issues #1-4, 6), SDS Satz- + Druckservice GmbH, Hamburg (issues #5, 7-9, 11), Druckhaus Lübbe GmbH + Co. KG. (issue #10)
Distribution: Bastei-Verlag, Gustav H. Lübbe GmbH & Co. KG.