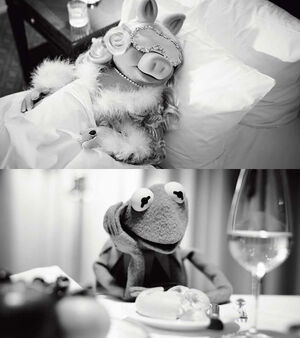 Die Zeit is a German weekly newspaper published out of Hamburg, whose English translation is "The Time" or "Times". First published in 1946, Die Zeit is the most widely read German weekly newspaper with a circulation of nearly half a million.
Reporter Jörg Böckem met with Miss Piggy and Kermit the Frog while they were staying at the Ritz-Carlton Hotel in Berlin to promote Die Muppets to interview them for Die Zeit. Both Muppets posted an essay in the paper's series "Ich habe einen Traum (I Have a Dream)," illustrated with a black and white photo of each, shot on location.
For Muppets Most Wanted, a Berlin-set was created for the April 7, 2014, location shoot in Greenwich, UK. The changes to the public place included a piece of the Berlin Wall, German street and subway signs, as well as a "Die Zeit" newspaper stand warning (in mock-German) of Constantine.
Kermit graced the cover of both the newspaper, and its weekly magazine in late March/early April 2014.
See also
External links
Community content is available under
CC-BY-SA
unless otherwise noted.