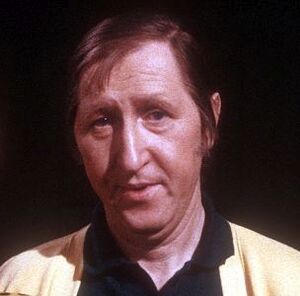 Dieter Kursawe (1934-1996) was a German actor, cabaret comedian, and voice actor. He dubbed Bert in Bibos abenteuerliche Flucht (Follow That Bird).
A frequent cartoon dubber, Kursawe was the German voice of Daffy Duck beginning in Looney Tunes dubs starting in 1972 and continuing through Who Framed Roger Rabbit and Tiny Toon Adventures. He dubbed Piglet in the original Winnie the Pooh featurettes, Romans and others in the Asterix movies, William Dalton in the Lucky Luke film series, the porcupine in The Fox and the Hound, and the Siamese cat in The Aristocats. TV cartoons included Louie on TaleSpin and parts in the German series Benjamin Blümchen.
Outside of cartoons, Kursawe dubbed Austin Pendleton in Mr. Nanny, Toby Jones in Orlando, Joe Pesci in Betsy's Wedding, and the Johnny Cab in Total Recall. For TV, he frequently dubbed guest actors on Bonanza, Star Trek: The Next Generation, and Matlock.
Kursawe was active in German cabarets, especially associated with the Reichskabarett of Berlin. He appeared in film and television, such as appearing in different roles in four episodes of the children's series Löwenzahn (between 1983 and 1988). He had been heard on German radio since the late 1960s and was heard in minor roles in three Professor Van Dusen crime episodes in the 1980s and in radio adaptations of Animal Farm (1981), The Chronicles of Narnia (1986, as Uncle Andrew), and Watership Down (1994, as Acorn).
External links
Community content is available under
CC-BY-SA
unless otherwise noted.