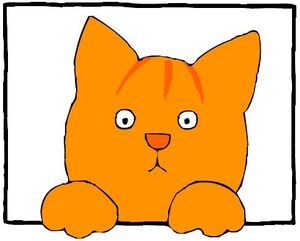 Dikkie Dik picture stories have been featured on Sesamstraat since March 8, 1978. The stories always began with the phrase, "Hier is weer een nieuw avontuur van Dikkie Dik." ("Here is another new adventure of Dikkie Dik.") Jet Boeke is the writer and creator of the stories about the naughty orange cat. She was inspired by her own cat, who was snow white and died in 1994. Since a white cat on white paper on television doesn't work that well, the cat became orange.
The actors would read the stories to children visiting the set. On the album Sesamstraat is Jarig, he is mentioned as an actual cat. However, on the show, he only appeared on the street once (as an animated character) when Jet Boeke visited the street in December, 2001.
For the last 15 years a lot of the stories have been reruns. They are now read by different cast members, first by Rudy, and later by Frank.
The Dutch publisher Gottmer Kinderboeken has published over 50 Dikkie Dik books.
In 2009, the Netherlands issued a sheetlet of three €0.44 stamps honoring Dikkie Dik.
Dikkie Dik has also appeared live on stage alongside children's song writer Dirk Scheele in two stage shows: Limonade met Prik (Fizzy Lemonade) and Dikkie Dik en zijn Vriendjes (Dikkie Dik and Friends). The latter featured the characters from the stories in puppet form. Jogchem Jalink portrayed the role of the titular character.
See also
External links