Premiere
September 7, 2009
Network
PBS
Episodes
89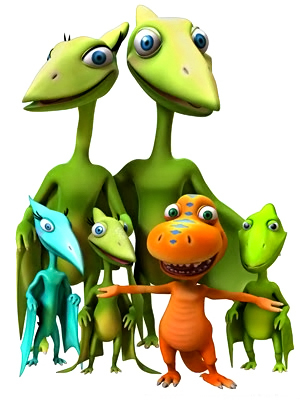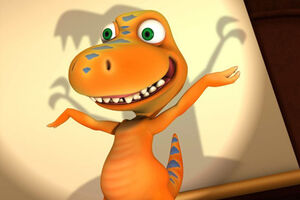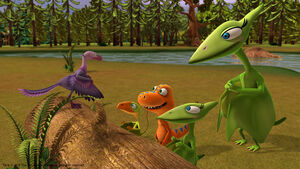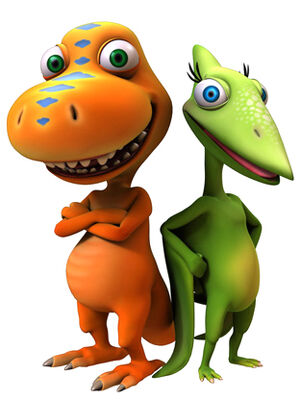 Jim Henson's Dinosaur Train is a preschool animated television series produced by The Jim Henson Company for PBS Kids. Dinosaur Train is designed to help encourage basic scientific thinking and skills as the preschool audience learns about natural science, natural history and paleontology. The computer-animated series, with animation outsourced to Singapore, consists of 89 episodes.[1]
Created by Craig Bartlett, Dinosaur Train follows the adventures of a young tyrannosaurus rex and his adoptive family of Pteranodons, who goes on the magical train that travels through the time-traveling tunnel through the periods of the Mesozoic Era.
Press Release
"

The world of Dinosaur Train is seen through the eyes of Buddy, a preschool-age Tyrannosaurus Rex. Rescued and hatched by a female Pteranodon, Buddy soon realizes that he looks quite different from his siblings. In response to Buddy's enthusiasm to learn more about himself and other dinosaurs, mom takes her family for adventures on the Dinosaur Train. Kids will get on board with Buddy and his family to meet all kinds of dinosaurs and learn new fascinating facts about these incredible creatures.

"
Production
Craig Bartlett, Brian Henson, Lisa Henson and Halle Stanford are executive producing Dinosaur Train. The Jim Henson Company is co-producing the series with Singapore animation company BIG Communications, along with participation and assistance from the Singapore Media Development Authority; UK production and support is being provided by Ingenious Media.[1]
"

Based on input from paleontologists, science educators and early childhood education experts, Dinosaur Train has developed an ambitious and creative curriculum that harnesses children's enthusiasm for and curiosity about dinosaurs, sparking children's interest in life science and natural history. PBS KIDS has been an incredible partner with our current series Sid the Science Kid, and our new project Dinosaur Train extends our mutual vision of creating quality, educational preschool programming by encouraging even more young viewers to get excited about science and the role it plays in our lives every day.

"
Voices
Claire Corlett as Tiny Pteranodon
Ian James Corlett as Conductor
Philip Corlett as Buddy Tyrannosaurus (seasons 1-2)
Sean Thomas as Buddy Tyrannosaurus (season 3)
Dayton Wall as Buddy Tyrannosaurus (season 4)
Erika-Shaye Gair as Shiny Pteranodon
Ellen Kennedy as Mrs. Pteranodon
Alexander Matthew Marr as Don Pteranodon (seasons 1-2)
Laura Marr as Don Pteranodon (seasons 3-present)
Colin Murdock as Mr. Pteranodon
Sources
↑ 1.0 1.1 The Jim Henson Company Press Release: Dinosaur Train Pulls Into PBS KIDS. January 7, 2009
External links
Community content is available under
CC-BY-SA
unless otherwise noted.