This article is about an upcoming project, product, or production.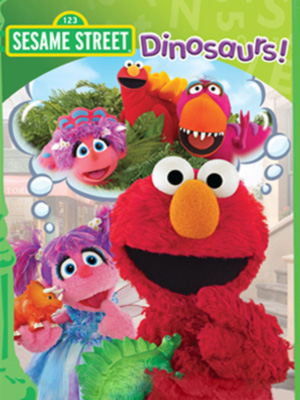 Sesame Street: Dinosaurs! is an upcoming movie produced by Sesame Workshop. In the movie Elmo, Telly and Abby Cadabby discover what would happen if they became dinosaurs. The movie will feature segements from Elmo's World: Dinosaurs(source) and an appearance by The Fairy Godperson as some kind of dinosaur fairy.(source) There will also be a new animated song called If Elmo Had a Dinosaur.(source)
Kidtoons Films is going to give the movie a limited theatrical release throughout the month of May 2008. (source) The film will play on weekends at more than 74 theaters across the United States starting on May 3rd.
A DVD of the movie will be released by Genius Products on May 13, 2008 and will include a special dinosaur edition of Journey to Ernie as a bonus feature.(source)
Official product description
"

Have you ever heard of an Elmosaurus? How about a Telly Rex? Join Sesame Street s curious red monster as he explores dinosaurs! What did dinosaurs eat? How did they move? What did they look like? And what would happen if Elmo, Telly, and Abby Cadabby became dinosaurs?!?! All these questions and more are answered in this charming and informative DVD, which features Dorothy, Mr. Noodle, new songs, and a dinosaur on Sesame Street!

"