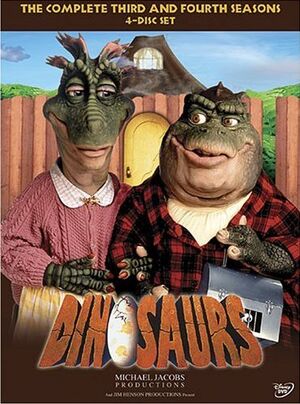 Following the release of the Dinosaurs: The Complete First and Second Seasons DVD box set in 2006, Buena Vista Home Entertainment released Dinosaurs: The Complete Third and Fourth Seasons in a 4-disc DVD set in 2007. The set includes the final 36 episodes of Dinosaurs along with bonus features.
Only seven of the fourteen episodes from Season 4 aired on ABC during the show's original run. ABC's run aired the final episode, "Changing Nature", as a definitive finale to the series, but left seven episodes unaired. Those extra seven episodes aired later in syndication.
On this set, the fourth season episodes are arranged in the order that they aired. "Changing Nature" closes the third disc, and the extra seven episodes make up the fourth disc.
Disc Features
Disc 1
Disc 2
Disc 3
Disc 4
Bonus Features
Notes
External links
Community content is available under
CC-BY-SA
unless otherwise noted.