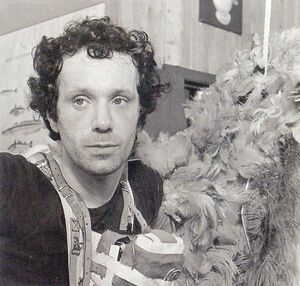 Dirk Grijspeirt (1946-2010) performed Pino on Sesamstraat, the Dutch co-production of Sesame Street, during the first season in 1976.
Grijspeirt was a Belgian performer, who began his career as a dancer; the first seasons of Sesamstraat were Dutch/Belgian co-productions. His Pino can be heard on the original Sesamstraat soundtrack.
Grijspeirt stopped performing Pino after the first season: the first Pino puppet was very plump and heavy, and it was too difficult for the performer to make Pino move graciously and deliver his lines at the same time. In the second season, Theo Joling took over Pino. The new puppet lost a little weight, but it was still quite plump.
Community content is available under
CC-BY-SA
unless otherwise noted.