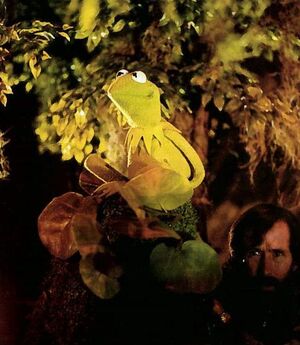 "Disco Frog" is a song sung by Kermit the Frog. It was recorded for the 1979 album Sesame Disco! and first appeared on TV in The Muppet Show for episode 418 (February 1980), and later on Sesame Street in Episode 1407 (April 1980).
In the version on The Muppet Show, Kermit wore a leisure suit and danced on lily pads in the swamp. He was performed in front of a black background while the puppeteers dressed in black so that Kermit's whole body could be used. In some shots, portions of the black outfits worn by the performers can be seen. Kermit was joined by many frogs (including his nephew Robin) and an alligator.
In the Sesame Street version, Kermit appears in a different swamp with a group of frogs, and a telestrator version of himself who dances overhead. Brian Muehl and Kathryn Mullen are among the performers of the back-up dancers.[1]
Releases
Audio (Sesame Street version)
Video (The Muppet Show version)
Video (Sesame Street version)
Sources
↑ Shalom Sesame "Journey to Secret Places" credits
See also
Community content is available under
CC-BY-SA
unless otherwise noted.