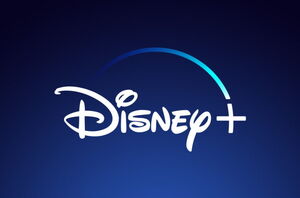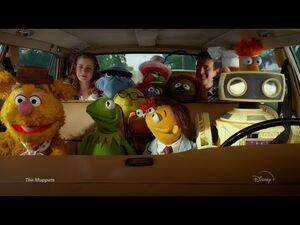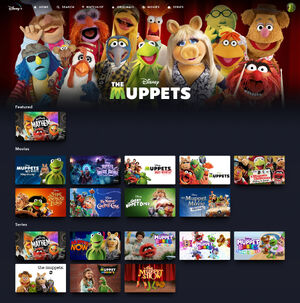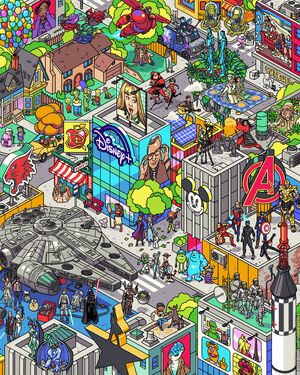 Disney+ is a subscription-based video streaming service owned by The Walt Disney Company, launched on November 12, 2019. The service offers original and library content from Disney and its various subsidiaries, including Pixar, Marvel, Lucasfilm, 20th Century Fox, and National Geographic.
Various Muppet movies, series and shorts are available on the platform, packaged as part of "The Muppets Collection." The at-launch titles were first revealed as part of Disney+'s soft launch in the Netherlands on September 12, 2019. The titles were confirmed through a thread of consecutive posts on the Disney+ Twitter on October 14, 2019. These titles debuted when the service launched while additional titles and episodes continued to be added after the initial launch. Notably, over a decade after its last home media release, all five seasons of The Muppet Show (albeit with multiple edits and omissions) were released to the service on February 19, 2021.
The series Muppets Now was produced exclusively for Disney+, originally developed as shorts but reworked and released as traditional half-hour episodes in 2020. Another project, Muppets Live Another Day, was reported to also be in development for the platform but was ultimately scrapped. An episode of the anthology series Prop Culture focused on The Muppet Movie, and a segment of Disney Insider briefly mentioned the Regal Eagle Smokehouse. The Jim Henson Company-produced Earth to Ned premiered on the platform in 2020 and was the focus of an episode of Disney Insider as well.
Several titles include bonus feature "extras" along with the main title ― including Doc Hopper's Commercial, outtakes of Kermit riding a bike, and Jim Frawley's Camera Tests on The Muppet Movie; the deleted song "When Love Is Gone" on The Muppet Christmas Carol; multiple deleted scenes on The Muppets; and a blooper reel and "On-Set with Walter" featurette on Muppets Most Wanted.
Muppet/Henson Titles on Disney+
Movies and Specials
Series
*inaccessible to kids' accounts
Shorts
Edits and Omissions
The Muppet Show (US)
Entire episode missing
Partial episode missing
The Muppet Show (Europe)
Entire episode missing
The Muppet Christmas Carol
Bobby Benson's brief appearance as a street choir conductor features him smoking a cigarette in accordance with his "signature" look from The Muppet Show. The version on Disney+ has digitally removed the cigarette.
Sources
↑ The Muppet Morsels on the season 1 DVD (which includes the scene intact) explain that Statler's reaction was also cut in the original US broadcast
External links