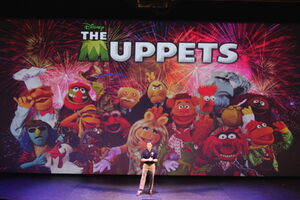 Disney Dream is a cruise ship operated by the Disney Cruise Line.
On its maiden voyage on January 26, 2011, Disney Parks and Resorts Chairman Tom Staggs made an audience presentation concerning the company's projects in development. Speaking of upcoming film ventures, Staggs debuted the logo used for promotional purposes for The Muppets.
Although little detail was revealed about the movie itself, the previously reported video made by Jason Segel and Kermit the Frog to convince Amy Adams to do the movie was shown publicly for the first time.
Sources