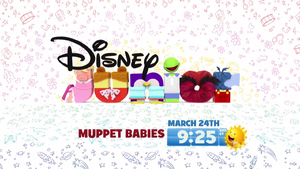 Disney Junior is a television network and programming block on the Disney Channel aimed at preschool age children. It was previously branded as Playhouse Disney.
Disney Junior is home to the 2018 animated Muppet Babies series; a CGI update of the original 2-D animated series from the 1980s.
Beginning in April 2015, the Muppets featured in a series of interstitial shorts for the block called Muppet Moments. The block also aired Muppet Babies: Show and Tell, Muppet Babies Play Date, and Disney Junior Music.