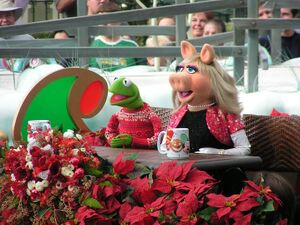 The Disney Parks Christmas Day Parade is an annual broadcast of Walt Disney World's Christmas parade, which is at their Magic Kingdom park. In recent years, the broadcast has expanded to included footage from the Disneyland Christmas parade. It is broadcast on Christmas Day morning on ABC, and has previously aired as The Walt Disney World Very Merry Christmas Parade in the 1980s and 1990s. Until 2009, it was known as the Walt Disney World Christmas Day Parade. A nighttime version of the parade aired on Christmas Day 1999.
Muppet appearances
1989: Kermit the Frog (voiced by Jim Henson) rides in a sleigh, on top of a blanket. He sings "Sleigh Ride", accompanied by two human cast members from the park. The clip was re-shown in the 2008 broadcast.
2004: Kermit, Miss Piggy and Gonzo host the Disneyland section of the broadcast.[1] Bear also appears with some kids doing activities in Walt Disney World.
2010: Park puppets of Kermit and Piggy ride on their normal float in the Walt Disney World section of the broadcast. Ryan Seacrest, Maria Menounos, and Nick Cannon host.
2011: Statler and Waldorf appear throughout the broadcast, providing color commentary. Kermit appears partway through with Mario Lopez, to whom he offers his gig on New Year's Eve... being Miss Piggy's date; Lopez freezes in shock after unwittingly agreeing. During the segment, Kermit makes reference to his press tour for The Muppets. Gonzo appears in the opening sequence, a "stay-tuned" skit with Maria Menounos, and closing bloopers. Musical performances include Justin Bieber and Jennifer Hudson. In a publicity photo, Kermit posed with Bella Thorne and Zendaya.
2015: Kermit and Robin appear in a brief interstitial segment after a commercial break, plugging The Muppets ABC series and discussing Robin's first vacation at Disney World.
Gallery
External links
Sources