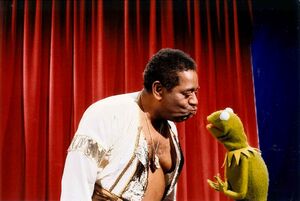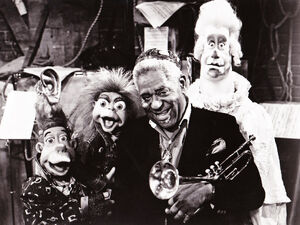 John Birks "Dizzy" Gillespie (1917-1993) was an American jazz trumpeter.
He made several guest appearances on Muppet-related shows: He was the guest star in episode 413 of The Muppet Show, the Ghost of Faffner Hall episode "Reacting to Sounds" and Sesame Street episodes 2040 and 2071 (with Oscar the Grouch).
Gillespie was inducted into the Big Band and Jazz Hall of Fame in 1982. Other notable television appearances include The Cosby Show and 3-2-1 Contact.
References
Lips's profile on the back packaging of the Lips Action Figure lists "Dizzy Gillespie records" among his likes.
External links