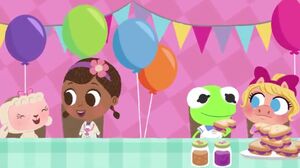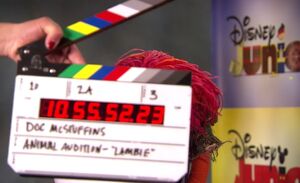 Doc McStuffins is an American animated television series produced by Disney Television Animation for Disney Channel and Disney Junior. The show follows the adventures of Dottie "Doc" McStuffins who decides she wants to become a doctor like her mother, a pediatrician. She practices her dream by fixing toys and dolls by using her magic stethoscope, which cause toys, dolls, and stuffed animals to come to life.
Characters from Doc McStuffins crossed over with Muppet Babies and other Disney Junior characters in the Music Nursery Rhymes video "Hickory Dickory Dock"; Doc McStuffins and Lambie sits next to Baby Kermit, Baby Piggy, and Baby Animal at a party. In Disney Junior's Ready for Preschool video "Letters," Baby Kermit and Lambie appeared together.
References
Promoting Muppet Moments, a behind the scene video (VIDEO) showcases the Muppets auditioning for Disney Junior programs. Fozzie Bear auditions for Doc McStuffins and says her phrase "I have a diagnosis!" In addition, Animal auditions for Doc McStuffins' toy friend, Lambie.
Connections
Community content is available under
CC-BY-SA
unless otherwise noted.