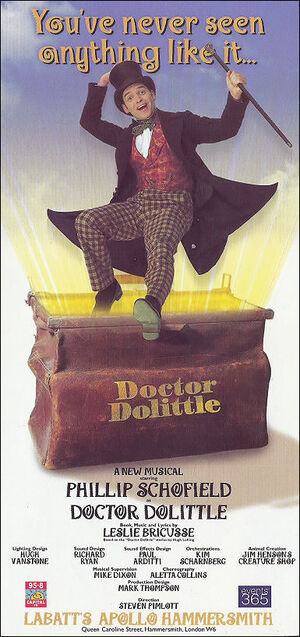 In 1998, the Jim Henson Company co-produced the London West End musical production of Doctor Dolittle, based on the 1967 movie. The majority of the Henson Company's involvement was in the creation of the nearly one hundred animatronic animals created for the show, including a five-foot tall snail, a seal, dog, monkey, horse, pig, and the most famous of the show, the Pushmi-pullyu. The show starred Phillip Schofield as the Doctor who could "Talk to the Animals."
Nigel Plaskitt served as animal movement director for the show. Polynesia was puppeteered by Wim Booth (and Sarah Burgess in a later tour) and voiced by Julie Andrews. The show was directed by Steven Pimlott, with Choreography by Aletta Collins.
The musical opened on July 14, 1998, running at the same time the film version starring Eddie Murphy was in theatres,[1] also featuring animals from Jim Henson's Creature Shop. The production closed June 26, 1999.[2]
Cast
Dr John Dolittle: Phillip Schofield
Emma Fairfax: Sarah Jane Hassell
Matthew Mugg: Bryan Smyth
Tommy Stubbins: James Paul Bradley
General Bellowes: Peter Cellier
Straight Arrow: Peter Gallagher
Albert Blossom: John Rawnsley
Julie Andrews as "The Voice of Polynesia"
Company: Wim Booth, Kaye E Brown, Mark Carroll, Samuel Carter-Bown, Peter Challis, Patrick Clancy, Scott Cripps, Hadrian Delancey, Chris Duffy, Iestyn Evans, Ross Finnie, Nicola Filshie, Gary Forbes, John Ginley, Michael Gyngell, Heidi Habgood, Andy Heath, David J Higgins, Holli Hoffman, Jane Housley, Sandra Kater, Marjorie Keys, Ryan Laight, Cherida Langford, Angie Lloyd, Tania Mathurin, Gary Milner, Lucy Moorby, Sue OíBrian, Garrett Pennery, Andrew Rothwell, Lynn Robertson Bruce, Gillie Robic, Lacey Scott, Louisa Shaw, Robert Skidmore, Michael Small, Darien Smith, Duncan Smith, Jane Stoggles, Emily Thornhill, Caroline Thompson, Drew Varley, Adam Vaigncourt-Stratten
Crew
Lighting design: Hugh Vanstone
Sound design: Richard Ryan
Sound effects design: Paul Arditti
Orchestrations: Kim Scharnberg
Animal creations: Jim Hensons Creature Shop
Musical supervision: Mike Dixon
Musical director: Michael England
Executive producer: Adrian Leggett
Choreography: Aletta Collins
Production design: Mark Thompson
Directed by: Steven Pimlott
Musical numbers
Act One

"My Friend the Doctor"
"The Vegetarian"
"Doctor Dolittle"
"You're Impossible"
"I've Never Seen Anything Like It"
"Beautiful Thing"
"When I Look Into Your Eyes"
"Like Animals"

Act Two

"After Today"
"Fabulous Places"
"Where are the Words?"
"I Think I Like You"
"Save the Animals"
"I Think I Like You" (reprise)
"Something in your Smile"
"My Friend the Doctor" (reprise)
"The Voice of Protest"
"I've Never Seen Anything Like It" (reprise)
"My Friend the Doctor" (reprise)
Gallery
Sources
Community content is available under
CC-BY-SA
unless otherwise noted.