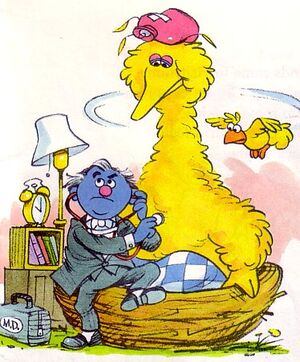 Doctor Getwell visits Big Bird when he has a cold in the 1982 book Nobody Cares About Me! He makes a house call to Big Bird's nest, and apparently does not charge for his services.
Getwell prescribes lots of juice and rest. Big Bird recovers.
The illustration is a nod to the famed Norman Rockwell painting "The Doctor and the Doll."
See also
Links
"The Doctor And The Doll," Norman Rockwell painting that inspired the picture of Doctor Getwell
Community content is available under
CC-BY-SA
unless otherwise noted.