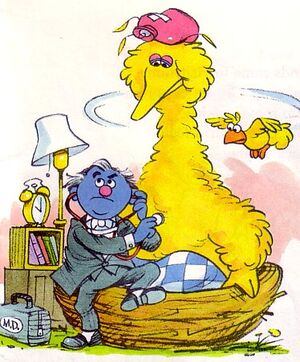 Doctor Getwell visits Big Bird when he has a cold in the 1982 book Nobody Cares About Me! He makes a house call to Big Bird's nest, and apparently does not charge for his services.
Getwell prescribes lots of juice and rest. Big Bird recovers.
The illustration is a nod to the famed Norman Rockwell painting "The Doctor and the Doll."
See also
Links
"The Doctor And The Doll," Norman Rockwell painting that inspired the picture of Doctor Getwell