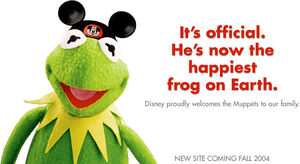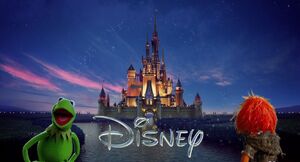 In February 2004, The Walt Disney Company purchased the Muppets and the Bear in the Big Blue House characters from The Jim Henson Company. The purchase did not include the Sesame Street characters, which are separately owned by Sesame Workshop, nor did it include Fraggle Rock and other franchises, which The Jim Henson Company retained.
Beginning in 1989, Jim Henson had been in negotiations with Disney for a sale of the company so that he could focus on creative projects without the hassles of running a company. This deal fell through after his death in May 1990.
During the '90s, Disney distributed the films The Muppet Christmas Carol and Muppet Treasure Island. During this period, Disney's video line, Buena Vista Home Entertainment, released some Muppet projects, and many Henson productions were broadcast on Disney Channel.
In his book Where Did I Go Right?, Bernie Brillstein (Jim Henson's manager) speaks of a time in the early 1980s, when the Disney company was in management trouble, that he and Jim were considering buying The Walt Disney Company.
The Muppets' Wizard of Oz has a brief reference to Disney buying the Muppets. At one point, Toto (Pepe) is on his cell phone with Michael Eisner and tells him, "If you think we're going for that deal, you're out of your Mickey mind, okay."