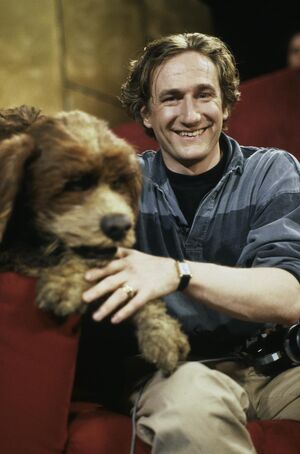 Dog sits at The Storyteller's feet in Jim Henson's The StoryTeller and Jim Henson's The StoryTeller: Greek Myths. He comments on the stories and asks questions.
Outside of The StoryTeller, Dog appeared in the introduction for the episode 103 of The Jim Henson Hour (performed by Kevin Clash in the half-hour version), replacing the Thought Lion, and at the London Creature Shop office in "Secrets of the Muppets." Despite being a creature and not a Muppet, he is a member of "The Organization of Muppet Dogs" in The Secrets of the Muppets. He also appeared on BBC1's 1989 Red Nose Day for the Comic Relief charity.
Rowlf the Dog interviewed Dog in the Fall 1988 issue of Muppet Magazine. Dog tells the story of how he first met the Storyteller: he happened upon him one day in the woods as Dog was burying some juicy bones. The Storyteller offered to trade him a story for one of his bones to use in a soup. Dog liked the story so much, he began following him around and eventually settled down to live with him. However, he concedes that he is no one's pet and admits that he is his own boss.
In 1989, Dog also appeared as a guest on A Night of Comic Relief 2.
Since 2015, the Dog puppet is on display at the Center for Puppetry Arts as part of their permanent Worlds of Puppetry exhibit.