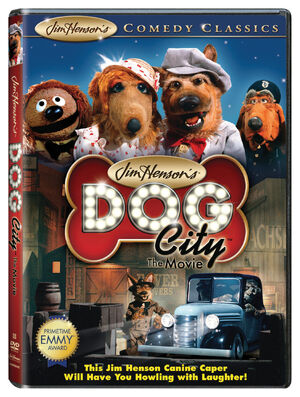 For the special see Dog City (special).
Jim Henson's Dog City: The Movie is a DVD release from The Jim Henson Company featuring the Dog City special which originally aired as part of The Jim Henson Hour in 1989. The DVD was released by Lions Gate Entertainment on June 8, 2010.
Running approximately 40 minutes, the single disc release also includes bonus material, including a behind-the-scenes photo gallery and original concept art. Despite the fact that it does not include the MuppeTelevision segments, the music from the Jim Henson Hour theme plays in the background of the main menu.
Region 2 release (2005)
A Region 2 DVD of the Dog City special, also titled "Dog City: The Movie", was produced by HIT Entertainment in 2005 and was exclusively available in the United Kingdom.
The MuppeTelevision framing sequences from The Jim Henson Hour episode are not included in this presentation of the special. Rowlf's introductions have remained intact (although he is erroneously referred to as "Ralph" on the back of the region 2 box).
Laserdisc release (Japan)
A laserdisc from Japan was released by KSS Flims. It included the complete episode with the MuppeTelevision portion and Jim Henson's host scenes, albeit with Japanese-dubbed audio and very brief Japanese subtitles during one scene apiece.
External links