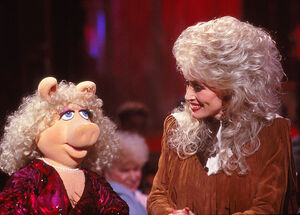 Dolly was a television variety show hosted by Dolly Parton which aired Sundays on ABC during the 1987-1988 television season.
Appearances
November 15, 1987 — Miss Piggy and Parton poke fun at a bubble bath skit and sing "Friendship". Later, Piggy sings "Someone To Watch Over Me", in part to lampoon Parton's performance of the song in the first episode. Parton, annoyed at being undermined by Miss Piggy, tells guest Juice Newton that they might be "having ham sandwiches after the show". Piggy then forced herself in on the last number, "Oh, Lonesome Me", singing with Parton, Newton, and Jerry Reed, only to make a quick exit to her limo immediately after.
April 16, 1988 — Miss Piggy joins Parton on stage and declares that she's going country. Later, Piggy watches Parton's routine with Bob Hope and suggests that the also is going country, soon to be followed by Itzhak Perlman. After additional music numbers, Parton joins Piggy on her tour bus decorated with drapes made from Willie Nelson's headbands and Barbara Mandrell's antique bed. Finally, Piggy joins Parton on stage where they sing "I'm a Hog for You Baby" as a duet.
See also
External links
Community content is available under
CC-BY-SA
unless otherwise noted.