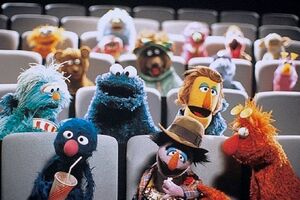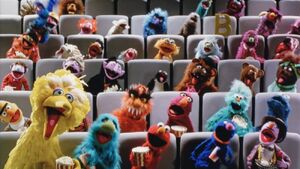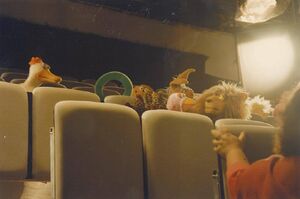 "Don't Forget to Watch the Movie" was a policy trailer specifically for Sony/Loews movie theaters (which later merged with AMC Theatres). It was shown before features beginning around 1996. In song, the cast of Sesame Street explain the rules (both serious and silly) of the movie theater.
A version of the song with new lyrics was used on a special episode of The Rosie O'Donnell Show in 1998, taped on the set of Sesame Street.
Tony Geiss composed the song.
Characters
Muppets
The Amazing Mumford, Baby Bear, Baby Natasha, Benny Rabbit, Bert, Big Bird, Chicago the Lion, Cookie Monster, Count von Count, The Countess, Cow, Elmo, Ernie, Frazzle, Grover, Herry Monster, Humphrey, Honkers, Ingrid, The Oinker Sisters, Oscar the Grouch, Papa Bear, Prairie Dawn, Rosita, Shrimp, Telly Monster, Wolfgang the Seal, Zoe
Background Muppets
AM Monsters, Anything Muppets, Betty Lou, Biff, Board of Birds, Cat, Chickens, Dingers, Dragon, Duck, The Elephant, Goat, Harry the Hopping Haystack, Kermit the Forg, Kingston Livingston III, Lambs, Leo Birdelli, Letter B, Little Red Riding Hood, Madame Chairbird, Mama Bear, Maurice Monster, Mr. Between, Mr. Johnson, Placido Flamingo, Preston Rabbit, Roxie Marie, Sheep, The Sun, Turkey, Two-Headed Monster
Notes
Gallery
See also
External links