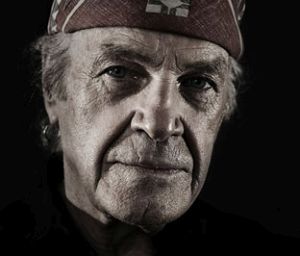 Don Francks (1932-2016) was a Canadian actor, musician, and voice actor who was heard in episodic roles on Dog City, such as Fob Canine. He had previously been heard on the 1991 CD Bob's Favorite Street Songs, playing Mr. Saxman on "Put Down the Duckie" (in place of Hoots).
Francks had a long career beginning in the fifties in his native Canada, with frequent appearances on Encounter and a regular role on R.C.M.P. as Constable Bill Mitchell (1959-1960). He was part of the original cast of Mister Rogers' Neighborhood when it began in Canada in 1964, as Mr. Anybody, who would assume a different occupation. He returned for periodic visits on the later public television installments, notably presiding over the wedding of King Friday and Queen Saturday and appearing as late as 1970. He also recorded a few albums of jazz music.
Beginning around 1965, Francks spent a few years in Hollywood, playing guest roles (often villains) on Mission: Impossible, The Wild Wild West, Ben Casey, Mannix, and The Man from U.N.C.L.E. He starred on the short-lived spy series Jericho (1966-1967) and played the romantic lead Woody in the 1968 film version of Finian's Rainbow (with Fred Astaire). Returning to Canada, he appeared in films such as McCabe & Mrs. Miller (with Shelley Duvall), Fast Company, and My Bloody Valentine (as the police chief).
Francks' longest running later TV role was on La Femme Nikita (1997-2001) as Walter. He also recurred on Road to Avonlea as Abe Pike and made appearances on The Littlest Hobo, the revival of Alfred Hitchcock Presents, Goosebumps (as the swamp hermit in "Werewolf of Fever Swamp"), and Puppets Who Kill. Later films included Johnny Mnemonic, Bogus (with Whoopi Goldberg), Harriet the Spy (with Rosie O'Donnell), and I'm Not There (with Julianne Moore and Kris Kristofferson). One of his last assignments was a running part as Nicolae in the first season of the Netflix series Hemlock Grove in 2013.
From the late 1970s onward, Francks was equally busy as a a voice actor, heard on CBC radio in two installments of the horror anthology Nightfall and as wisecracking legman Archie Goodwin in the 1982 Nero Wolfe series. He lent his gritty voice to the animated features Heavy Metal and Nelvana's Rock & Rule (as villainous rock star Mok). Cartoon credits included Inspector Gadget, The Ewoks and Droids Adventure Hour (as the Dulok Shaman and in the "Droids" segments as Kybo Ren), Swamp Thing (Dr. Arcane), X-Men (Sabretooth and others), Care Bears, the animated ALF, and Tales from the Cryptkeeper.
Francks was the father of actress Cree Summer Francks.
External links
Community content is available under
CC-BY-SA
unless otherwise noted.