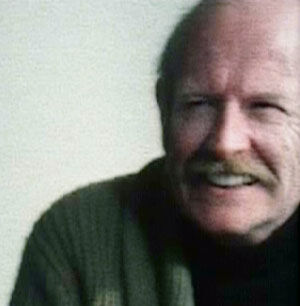 Donald Burton "Don" Hinkley (1921-1981) was a writer on The Muppet Show and co-wrote the Muppets Go Hollywood special.
From the Muppet Show Fan Club newsletter (vol. 3, no. 2, 1981):
"According to the people who worked with him on The Muppet Show, Don Hinkley was a quiet, shy, unassuming man who had a devastatingly sharp sense of humor. In the opinion of the other Muppet Show writers, he wrote the funniest material on the show.

Don was born and raised in Richmond, Northern California, and died this past February [1981] in Toronto, Canada. He started his long and successful television career in New York City writing for Steve Allen's series of hour-long variety shows. He stayed with Steve Allen for five years, and then moved on to write one season of The Bob Newhart Show [a 1961 variety series, not the later sitcom], followed by four years of The Andy Williams Show. After that, he wrote The Carol Burnett Show for five years and The Flip Wilson Show for two years.

Don joined The Muppet Show at the beginning of its second season and stayed through the fifth -- the only writer other than Jerry Juhl to be with the show that long.

Although he worked on everything, as did every other Muppet Show writer, he was considered the exclusive writer of Veterinarian's Hospital. His unparalleled Dr. Bob jokes were consistently terrible and hilarious.

"It was extraordinary the way he worked," said Jerry Juhl, Muppet Show headwriter. "He didn't spend a whole lot of time in the studio where the taping was going on. He was very workmanlike. Every day, he would come to the office, sit at his desk, write hysterically funny stuff and then quietly slink away. Hardly anyone knew he was there."

Chris Langham, another Muppet Show writer, quoted his favorite Don Hinkley joke. "It was a Statler and Waldorf comment, and it came at the end of the show that had the pigs dressed as Norwegian pirates singing In the Navy. Statler said, 'Good night.' And Waldorf said, 'And may the good Lord take a Viking to you!'""
External links
Community content is available under
CC-BY-SA
unless otherwise noted.