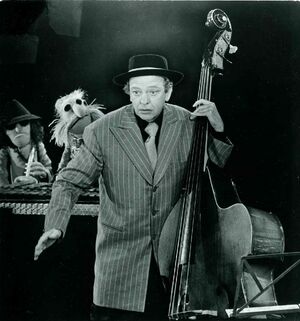 Don Knotts (1924-2006) was a comedic actor whose film credits include The Incredible Mr. Limpet, The Ghost and Mr. Chicken, and The Apple Dumpling Gang. He is well-known for his roles on the TV sitcoms The Andy Griffith Show and Three's Company. In later years, he lent either his face or his voice to such films as Pleasantville, Cats Don't Dance, and Chicken Little.
Knotts was the guest star on episode 201 of The Muppet Show. He also made a brief appearance in the 1979 special The Muppets Go Hollywood.
Knotts' career started with the military where his training as a ventriloquist gained him entry to the entertainment corp.
External links